Prophet, Priest, and King: The Roles of Christ in the Bible and Our Roles Today by Richard P. Belcher Jr.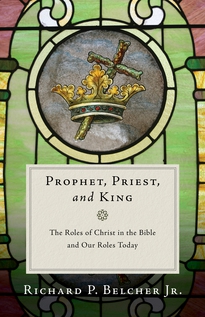 224 pages | List Price: $16.99 | Paperback
Summary
The Bible tells us that Christ has three "offices"—those of Prophet, Priest, and King. Viewed alongside his humiliation and exaltation, they provide a fully rounded understanding of his work and insight into the ongoing roles of the church.
In this biblical theology, Richard Belcher explores and defines the basic functions of prophets, priests, and kings through an analysis of key Old Testament texts before discussing their fulfillment in Christ and how they are carried out today by the church, its leaders, and individual believers.
Endorsements
"Belcher's impressive treatment of these offices in their biblical- theological setting is essential reading in understanding their comprehensive nature. This book deftly combines biblical and pastoral insight that is most welcome in furthering our understanding of Scripture and the person and work of Christ."
—Derek W. H. Thomas, Senior Minister, First Presbyterian Church, Columbia
"With wisdom, clarity, and grace, Belcher guides the reader to a richer and fuller vision of Christ as Prophet, Priest, and King."
—Michael J. Kruger, President and Samuel C. Patterson Professor of New Testament, Reformed Theological Seminary, Charlotte
"Belcher's work points us all toward the importance of keeping the centrality of Christ in view as we address the manifold challenges that Christians face as we long for his return in glory."
—Richard L. Pratt Jr., President, Third Millennium Ministries
About the Author
Richard P. Belcher Jr. is Professor of Old Testament and Academic Dean at Reformed Theological Seminary in Charlotte. He is author of The Messiah and the Psalms and commentaries on Genesis and Ecclesiastes and has a decade of pastoral experience.