---
---
The Essential Trinity: New Testament Foundations and Practical Relevance edited by Carl R. Trueman & Brandon D. Crowe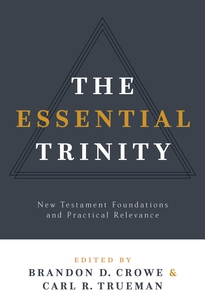 320 pages | List Price: $19.99 | Paperback | SAMPLE CHAPTER | Kindle ($9.99) | iTunes/ePub ($9.99)
About
The doctrine of the Trinity is foundational to Christian theology. A careful study of the whole counsel of God, rather than a selective reading of biblical texts, brings needed clarity. In a work geared especially toward leaders in the church, scholars of the Trinity give Old Testament background, provide trinitarian readings of the entire New Testament corpus, and explore the practical relevance of the doctrine to prayer, worship, and other aspects of Christian life and ministry.
Endorsements
"Today there are many books on the market dealing with the doctrine of the Trinity. This is my favorite. It is a clear presentation, discussion, and application of the historic doctrine by people who believe it and have studied it deeply. The essays have kept close to their source, the teaching of the Holy Scriptures. . . . I do not agree with every detail of every essay; they do enter into some controversial areas. But the reader will learn even from that controversy to engage the Scriptures with more thought and devotion."
—John M. Frame, Professor of Systematic Theology and Philosophy, Reformed Theological Seminary, Orlando
"What a pleasure to commend this book—an exegetical treasure, unpacking the doctrine of the Trinity on the Bible's own terms; a refreshing presentation of the doctrine's vital importance for the Christian and the church; and a rich resource for the preacher."
—Fred G. Zaspel, Executive Editor, Books at a Glance; Associate Professor of Christian Theology, The Southern Baptist Theological Seminary; Pastor, Reformed Baptist Church, Franconia, Pennsylvania
About the Editors
Brandon D. Crowe (MDiv, Reformed Theological Seminary; PhD, University of Edinburgh) is associate professor of New Testament at Westminster Theological Seminary and Book Review Editor for the Westminster Theological Journal. He is the author of The Message of the General Epistles in the History of Redemption: Wisdom from James, Peter, John, and Jude and the Christian Answers to Hard Questions booklet, Was Jesus Really Born of a Virgin?.
Carl R. Trueman (MA, Cambridge University; PhD, Aberdeen University) is professor of church history at Westminster Theological Seminary in Philadelphia and pastor of Cornerstone OPC in Ambler, Pennsylvania. He is the author of Republocrat: Confessions of a Liberal Conservative and Fools Rush In Where Monkeys Fear to Tread: Taking Aim at Everyone, and is a contributor in God, Adam, and You: Biblical Creation Defended and Applied.
---
---
How to Understand and Apply the Old Testament: Twelve Steps from Exegesis to Theology by Jason S. DeRouchie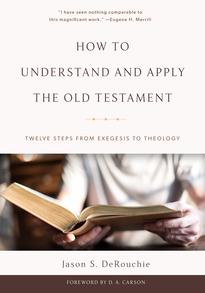 640 pages | List Price: $39.99 | Hardcover | SAMPLE CHAPTER
ABOUT
This book is for anyone who wants to learn how to observe carefully, understand accurately, evaluate fairly, feel appropriately, act rightly, and express faithfully God's revealed Word, especially as embodied in the Old Testament.
Follow an extensively field-tested twelve-step process to deepen understanding and shape theology (biblical, systematic, and practical).
Engage with numerous illustrations from Scripture that model these interpretive steps.
Learn how to track an author's thought-flow, grasp the text's message, and apply the ancient Word in this modern world, all in light of Christ's redeeming work.
Loaded with examples, practical answers, and recommended resources, the twelve chapters will empower believers to study, practice, and teach the Old Testament as Christian Scripture, understanding and applying it in ways that nurture hope in the gospel and magnify the Messiah.
ENDORSEMENTS
"Conversationally engaging; literarily transparent; materially comprehensive; pedagogically superb; academically sound, precise, and informed—all this and more. In over fifty-two years of teaching in the classrooms of higher education, I have seen nothing comparable to this magnificent work by DeRouchie—destined to be the classic in its field."
—Eugene H. Merrill, Distinguished Professor Emeritus of Old Testament Studies, Dallas Theological Seminary
"I recommend this book if you have a wanderlust for exploring ancient treasures. There are many, and they are great. DeRouchie will show you how to find them."
—John Piper, Founder and Teacher, Desiring God
"I can't help but think of how much less doctrinal error and how much more peace in Christ we would enjoy if we took theology as seriously and cheerfully as DeRouchie."
—Gloria Furman, Cross-Cultural Worker
"This volume not only will become a standard course textbook, but will also serve as a lifelong resource for those called to study and faithfully proclaim the good news of the gospel of Jesus Christ from the Old Testament."
—Miles V. Van Pelt, Alan Belcher Professor of Old Testament and Biblical Languages, Reformed Theological Seminary, Jackson
"Anyone wanting to grapple with how to interpret and apply the Old Testament will find this volume immensely helpful. It is scholarly, rich in theological and exegetical insight, and attentive to Hebrew grammar and syntax, yet the step-by-step approach to the interpretive task means that it is accessible for pastors and Bible teachers alike. You will want to have this volume in your library!"
—Carol M. Kaminski, Professor of Old Testament, Gordon-Conwell Theological Seminary
ABOUT THE AUTHOR