This week's author interview is with Timothy E. Miller. He is the author of the Reformed Academic Dissertation, The Triune God of Unity in Diversity: An Analysis of Perspectivalism, the Trinitarian Theological Method of John Frame and Vern Poythress.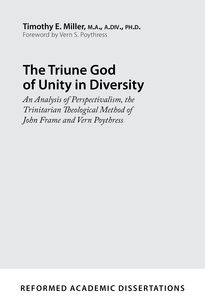 ---
Question #1—Do you have a favorite author? Who is it and why?
I was attracted to my dissertation topic by John Frame's lucid writing. He handles complex topics, but makes you feel like you are in a conversation with him.
Question #2—Do you have a favorite quote? 
"In the beginning, God …" This is my favorite quote because it lays the only sure foundation for a proper worldview.
Question #3—What advice would you give to aspiring writers?
Take a creative writing class. The principles you learn there will help in all forms of writing.
Question #4—Do you have an interesting writing quirk?
I love starting sentences with conjunctions. And you should too!
Question #5—Favorite sport to watch?
College Football — the Michigan Wolverines.
Question #6—Favorite animal?
Wolverine (see above) or Lion (see below).
Question #7—The Lord of the Rings or The Chronicles of Narnia?
The Chronicles of Narnia because of the characterization of Aslan.
---
Seminary Website: http://www.dbts.edu/faculty-miller/
---