---
Here are the 7 parts of Knowing and the Trinity: How Perspectives in Human Knowledge Imitate the Trinity by Vern S. Poythress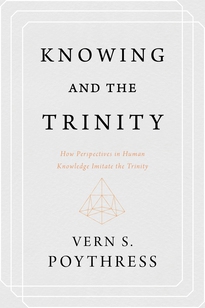 ---
PART 1
WHAT ARE PERSPECTIVES?
We explain perspectives and then consider three kinds: spatial perspectives, personal perspectives, and thematic perspectives. A spatial perspective is a view of a visible scene from a particular vantage point in space. A personal perspective is the view that an individual person has concerning the world or some subject. A thematic perspective is a temporary thematic starting point for exploring a subject matter, with the hope of discovering more and growing in truth.
1. The Mystery of Perspectives

2. Spatial Perspectives

3. Personal Perspectives

4. Thematic Perspectives

5. Commonalities in Perspectives
PART 2
THE TRINITY
We consider the basic aspects of biblical teaching about the Trinity.
6. Basic Biblical Teaching about the Trinity

7. Coinherence

8. Analogies for Relations in the Trinity

9. Comparing Analogies for the Trinity

10. Knowledge of the Trinity
PART 3
PERSPECTIVES FROM THE TRINITY
Now we consider some triads of perspectives that originate from the Trinity.
11. Perspectives on Reflections

12. Perspectives from Trinitarian Analogies

13. Perspectives on Ethics

14. Perspectives on Lordship

15. Perspectives on Office
PART 4
CLASSIFYING PERSPECTIVES
We consider how we may classify the various triads that we have surveyed in the previous chapters.
16. A Triad for Revelation

17. Trinitarian Classification of Perspectives
PART 5
APPLYING PERSPECTIVES TO THEOLOGICAL QUESTIONS
Examples illustrate how the use of perspectives can illumine questions relating to theology.
18. Transcendence and Immanence

19. Attributes of God as Perspectives

20. God's Acting in Time and Space

21. God's Creating

22. A Mystery of Indwelling

23. The Third-Man Argument

24. The Generation of the Son

25. The Procession of the Holy Spirit

26. Classes, and the Problem of the One and the Many

27. Human Responsibility

28. Conceptual Growth
PART 6
THE NATURE OF PERSPECTIVES
We endeavor to clarify the nature of perspectives and reasoning that uses perspectives and analogies.
29. Distinctives of Perspectival Reasoning

30. Perspectival Knowledge in the Trinity

31. Personal Perspectives and Thematic Perspectives

32. Attributes of God and Perspectives on God

33. Classical Perspectives concerning God

34. Perspectival Context for Attributes of God

35. Challenges to Theological Reasoning
PART 7
DERIVING THEOLOGY
We explore how a few starting principles lead to and reinforce a wider area of theological truths.
36. Expanded Classification of Perspectives

37. Three Persons and Triads

38. Deriving Attributes of God

39. Deriving Perspectives
---