God's Servant Job: A Poem with a Promise by Douglas Bond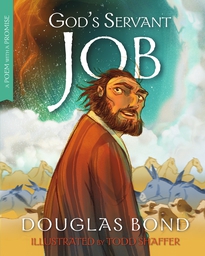 32 pages | Full Color | Price: $9.99 $2.00 | Sample Pages
About
God asks Satan a question: "Have you considered my servant Job?"
What happens next turns Job's world upside down. What will God's servant Job do when hardship strikes? Will Job keep loving God? Will God rescue Job?
Learn from the oldest book in the Bible as Job teaches us how to be faithful in the hard times that we face. Best of all, find out how God's story reveals our Redeemer, Jesus.
Includes discussion questions.
About the Author
Douglas Bond is the author of a number of books of historical fiction and biography. He and his wife have two daughters and four sons. Bond is an elder in the Presbyterian Church of America, a teacher, a conference speaker, and a leader of church history tours. Visit his website at www.bondbooks.net.
---