The New Man: Becoming a Man After God's Heart by Dan Doriani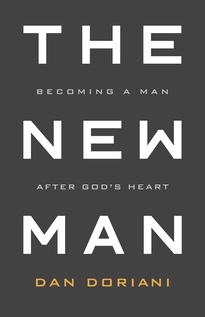 280 pages | List Price: $14.99 | Paperback
Summary: Dan Doriani understands the challenges of being a man, and he knows you don't need more man-made lists to excel as a husband, father, or leader. The new man in Christ is shaped by knowing God through his Word, because the way of a godly man is the way of his God.
With a focus on honing character rather than following techniques, Doriani seeks out the biblical pattern for masculinity that transcends culture. Discover how you can reflect God's character in marriage, friendships, wealth, work, fitness, play, and more. You won't find checklists for self-improvement (or three ways to grill a steak), but you will find clarity, insight, honesty, encouragement, and freedom in the Man who is ultimately our Savior, not just our example. You'll even find ideas for games to play with your kids!
Each chapter includes questions for group study or discussion with spouses. This is a revised and expanded edition of The Life of a God-Made Man (Crossway, 2001).
About the Author:
Daniel M. Doriani is vice president of strategic academic projects and professor of theology at Covenant Theological Seminary. Previously he was senior pastor of Central Presbyterian Church in Clayton, Missouri. Some of his books include: Putting the Truth to Work, The Sermon on the Mount, Getting the Message, and James, Matthew (2-Volume Set), 1 Peter, and The Incarnation in the Gospels in the Reformed Expository Commentary series.
What Others Say About This Book:
"An accessible, biblical, and inspiring vision for manhood. I recommend it to Christian men everywhere."
—Darrin Patrick, Author of The Dude's Guide to Manhood and The Dude's Guide to Marriage
"Dan is a proven thinker and leader. . . . He has somewhat miraculously managed to peel away the popular, overly-sensitive-to-public-opinion reinterpretation of what it means to be a man, while at the same time remained sensitive to the cultural moment in which believers must actually live out their faith. No small feat!"
—Patrick Morley, Founder of Man in the Mirror
"Dan Doriani's book will be a feast for your heart and life to your soul. It will bring you purpose and meaning and offer a freedom that can be experienced and realized only with a heart poised toward God. The New Man will equip men to lead courageously and to leave a godly legacy for generations to come!"
—Shawn Brower, Author of We Became Men and The Huddle
---
Our mis­sion is to serve Christ and his church by pro­duc­ing clear, engag­ing, fresh, and insight­ful appli­ca­tions of Reformed theology.
---