Tangle: The Quest for Truth, Book 4 by Brock Eastman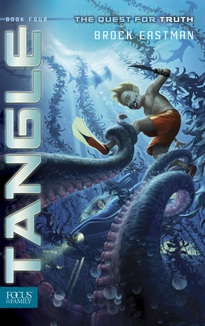 480 pages | Direct Price: $12.99 $10.00 | Series: The Quest for Truth
Summary: "Rescuer," Mason cried in his mind. "Save me!"
Captured and separated, the Wikk kids must rely on the power of Rescuer to complete their quest. On board the Black Ranger, Mason confronts a villainous mastermind with a startling secret. Meanwhile, Oliver, Tiffany, and Austin race to rescue their friend Ashley from a toxic moon. With danger at every turn, their only hope is their newfound faith. Will trusting the Truth help them to make sense of tangled clues and lies? Will Helper finally lead them to humanity's home planet?
The Quest for Truth series follows the four Wikk kids in their desperate race to find the planet Ursprung and stop the Übel renegades and dangerous Corsairs from misusing its long-lost secrets. Ancient cities, treacherous villains, high-tech gadgets—encounter all these and more on this futuristic, interplanetary adventure!
About The Author:
Brock Eastman works in business communications with Compassion International. He previously worked for Thriving Family magazine and at Focus on the Family, where he produced the Adventures in Odyssey series and wrote for the Imagination Station series. He lives in Colorado Springs, Colorado.
What Others Say About This Book:
"Brock Eastman's writing [is] full of life, full of truth, and most likely to hold your attention to the very last moment."
—Donita K. Paul, Author of the DragonKeeper Chronicles and RealmWalkers Series
"The Quest for Truth series is an entertaining fusion of archaeological mystery and space adventure. It's Indiana Jones meets Star Wars—but with family values and spiritual truth as its warp core. The first three volumes kept me reading . . . sometimes far past my bedtime! Tangle is a satisfying addition to the sequence."
—Jeremiah W. Montgomery, Author, The Dark Harvest Trilogy
"Book four is the best yet. . . . I love hearing my kids' excitement about the Wikk family's spiritual discoveries."
—Ann Hibbard, Senior Editor of Home Educating Family Association
"Wow! Tangle has left me wanting more. As a father and bookstore manager, I'm glad that there still is good, clean kids' fiction. I highly recommend The Quest for Truth series."
—Chris McCormick, Manager, LifeWay Christian Stores
"Read this before your friends. Full of twists, this action-packed installment in The Quest for Truth is sure to be your favorite."
—Jerel Law, Author, Son of Angels Series
"Tangle was a fabulous book. Through battles and plot twists, I kept wanting to read more. And a warning to all future readers: this book is very hard to put down."
—Gavin Montgomery, age 10
Other Books in the Quest for Truth Series:
Taken: Book 1, 320 pages, Published: 2010
Risk: Book 2, 408 pages, Published: 2011
Unleash: Book 3, 432 pages, Published: 2012