The Christ of Christmas by James Montgomery Boice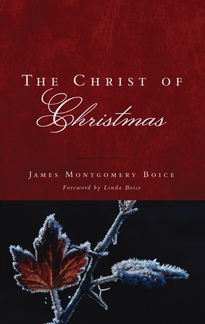 192 pages | List Price: $11.99 | Paperback | SAMPLE CHAPTER
About
The Christmas story evokes many touching images. Halos, fresh hay, shepherds carrying newborn lambs, and young motherhood all bring tears to the eyes of Christmastime churchgoers.
But the Christmas story is more than sentimental.
It is powerful. It deals with real people. It involves pain. It is one of the most strikingly unusual stories in all of history. And its main emphasis is not on Jesus' infancy, but on his deity—and why deity took the form of an infant.
In this collection of Christmas insights and messages, Dr. James Montgomery Boice emphasizes the incredible implications of one of our favorite true stories.
The Christmas story has deep meaning today, not merely as a nice bedtime story for children or a narrative in a choral concert, but as a foundation point of your salvation and your new life in Jesus—the omnipotent, omniscient, righteous Christ of Christmas.
Endorsements
"For those who wish to celebrate the birth of Christ in a thoughtful and festive way, James Boice has written an excellent guide. The perfect way to reflect on the true meaning behind the historic birth of Jesus Christ!"
—Joni Eareckson Tada
"The death of James M. Boice left a large void in the realm of Christ-centered exposition. These Christmas studies provide a master class for preachers and a terrific resource for all who wish to learn or present the greatest story ever told."
—Alistair Begg
About the Author
James Montgomery Boice (BA, Harvard; BD, Princeton; ThD, University of Basel) was the pastor of historic Tenth Presbyterian Church, Philadelphia, Pennsylvania. Although he died in 2000, he can still be heard today on the radio ministry The Bible Study Hour.