We all have the privilege this week to learn more about Elizabeth Turnage, the author of the Living Story series, which includes the following books: Learning God's Story of Grace, Living God's Story of Grace, and Loving God's Story of Grace.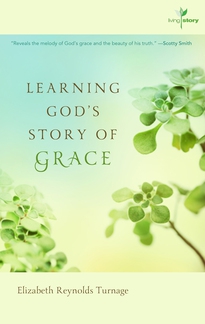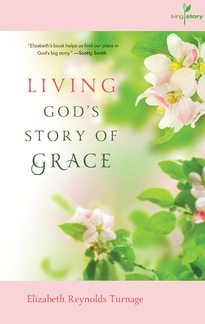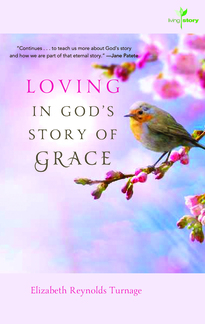 Question # 1 – Tell us a little bit about yourself: where you're from, family, job, personal interests, unique hobbies, what do you do in your spare time, etc.
I'm from Atlanta, GA, originally, my husband and I have lived in Pensacola, FL for 22 years.
We have four children, now aged 24-18, and I always laughed when people said "Wow, you're a great mom," when all they knew was we had four children in 6 years. I am nuts about our wildly wonder-full young adult children, and God has given them as one of the most humbling and redemptive stories for growth in my life.
I was an English teacher for six years before "retiring" to raise children. During my time as a stay at home mom, I used my passion for teaching to lead gospel-refreshing Bible studies for real women (i.e. those whose babies threw up on the way out the door and those who came because they needed a break from their young'uns).
That's probably when I first knew I needed to write a book, because I wanted some different materials, something that would help us live the gospel in our real daily life. I wanted to write, but I was afraid to share publicly. God persisted, calling me to risk and step into the unfamiliar and daunting terrain of the publication process. That's how the Living Story series was born. (Learning God's Story of Grace, Living God's Story of Grace, and Loving God's Story of Grace).
Hobby: I just began taking piano lessons this year for the first time in my 51-year-life, and I absolutely love it. (I didn't say I'm good at it, but I love it!)
Question #2 – Do you have a favorite movie? What is it and why?
The Sound of Music. Does that really need an explanation?! (My kids think so, after being forced to watch it for years!)
Question #3 – What advice would you give to aspiring writers?
You absolutely require good community to pray for you and process with you. The hardest thing about writing for publication is the alternating temptation to glory or shame. That is, we can easily slip into desiring glory for ourselves; we can also fall prey to feeling shame when our work is critiqued or even worse, met with apathy. The only way through is falling again into the arms of our loving Redeemer and Friend.
Question #4 – How do you deal with writer's block?
I'm one of those who believes firmly in sitting down and writing for a specified time, whether you feel "inspired" or not. I'll get out a big drawing pad and brainstorm ideas or maybe take a walk and ponder and pray if I'm really stuck.
Question #5 – Favorite flavor of ice cream?
My favorite food is ice cream, and my favorite is a Marble Slab mix of dark chocolate, raspberries and almonds.
Question #6 – Favorite animal?
Definitely our empty nest/"therapy" goldendoodle, Rosie.
=======================================================================
Interested in learning more about Elizabeth Turnage?
Visit her NEW website www.elizabethturnage.com.
Read her blog www.elizabethturnage.com/blog/.
Follow her on Twitter: @elizturnage
Like her series: Living Story on Facebook: https://www.facebook.com/LivingStoryGrace
Pinterest: http://www.pinterest.com/elizabeth_turn/
=======================================================================