This week's author interview is with Joseph W. Smith III, author of Sex and Violence in the Bible: A Survey of Explicit Content in the Holy Book.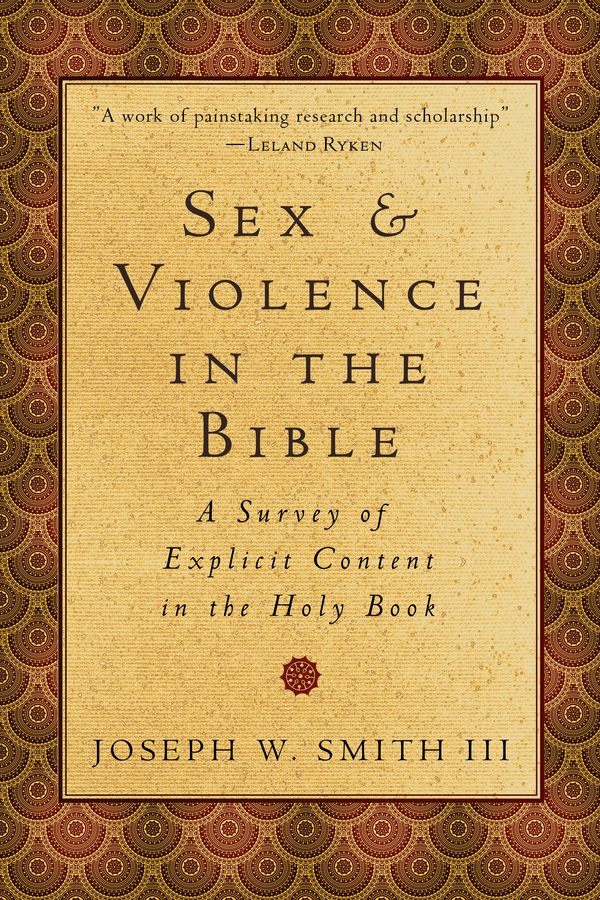 Question #1 – When did you first want to write a book?
I wrote my first book when I was 12 – a profusely illustrated sci-fi opus called Project Jupiter. (Still have this bedraggled ms.!)  This lifelong dream then went on hold for various reasons in my 20s, and only when I was nearing 50 did I realize it was time to make the dream come true – even if I had to self-publish.  Thankfully, the good folks at McFarland took a chance on a first-time author and released my book-length study of Hitchcock's Psycho in 2009. Five years later, P&R was willing to take another chance with Sex and Violence in the Bible; since I'm now working on a third book, perhaps that 42-year-old dream has been realized at long last.
Question #2 – What inspired you to write this book, about this topic?
Nearly everyone is interested in sex and violence – yes, even Christians!  But we don't talk about them much in church, do we?  Ever hear a sermon on Genesis 38, Judges 19, Song of Solomon 5-7 or Ezekiel 23:20?  No?  I didn't think so!  Fortunately, the Bible has no such public reticence.  I was anxious to unpack these passages that we so rarely study, and also to see exactly how the Bible treats graphic material – how much is "too much"? – and thus help Christians learn where to draw the line when interacting with modern culture.
Question #3 – What book are you reading now?
Banshee by Margaret Millar (crime thriller); and P&R's Recovering Eden by Zack Eswine.("One book at a time is not enough.")
Question #4 – Other than the Bible, do you have a favorite book?
If you put me on a desert island with the Bible, Dickens's A Christmas Carol and Wells's War of the Worlds, I could keep myself entertained for a pretty long time.
Question #5 – Do you have a favorite author? Who is it and why?
With a mixture of gratitude and embarrassment I admit that my favorite author is still Ian Fleming; I fell in love with his books as a teen and I still relish them.  Also Nevil Shute, P. G. Wodehouse, Robb White, H. G. Wells, Dawn Powell & Patricia Highsmith.  As you can tell, though I write nonfiction, I really love novels.
Question #6 – Do you have a favorite movie? What is it and why?
Hitchcock's Vertigo (1958) is the greatest movie ever made.  Music, acting, photography, storyline – and that message, about the damage done (esp. to women) by romantic obsession! So far ahead of its time!  If only Hitch – who was hurt by the initial lukewarm reception – could be around to see how beloved this film has become.
Question #7 – Do you have a favorite quote? What is it and why?
"Beer is proof that God loves us and wants us to be happy." – Ben Franklin
Question #8 – At what time of day do you write most?
Like most writers, I think most clearly and sharply in the morning.  8 – noonish (or 1) is good; and then outdoors, please!
Question #9 – What has been the toughest criticism given to you as an author? What has been the best compliment?
My first book contains a glaring error about Beethoven's Third (which I bone-headedly called the Ninth) that has been brought rather painfully to my attention by several readers.  Ouch.
When Leland Ryken – whose Liberated Imagination so influenced me – said my book was "a work of painstaking research and scholarship," I was floating for days.
Question #10 – Favorite sport to watch? Why? Favorite sport's team?
Grew up in Buffalo; huge Bills fan.  Builds character!
Question #11 – Favorite food?
South of the border!  With hot sauce, please.
Question #12 – Favorite animal? Why?
Otters.  Why?  I wish I was one!
Question #13 – What famous person (living or dead) would you like to meet and why?
I would love to tell Herman Melville that his work would stand the test of time, with Moby-Dick hailed as perhaps our greatest novel.  The poor guy died with most of his books out of print and must have thought it all in vain. *sigh*  That describes a lot of other artists, too, I'm afraid.
Question #14 – If you have a favorite book of the Bible, what is it and why?
Someone once asked R. C. Sproul which book he would choose if he could have only one out of the entire Bible.  He picked Hebrews – a brilliant choice.  But despite my fondness for Ecclesiastes and Song of Solomon, I myself would have to go with Genesis.  I love the early portrait of heaven in 1 & 2 (the way this world was supposed to be!) – and so many great promises and stories, so much about human life made clear in this glorious volume.  I especially love the Joseph narrative!
====================================================================
Like us on Face­book: P&R Pub­lish­ing
Fol­low us on Twit­ter: @prpbooks
====================================================================