This week's author interview is with Guy Richard, author of the Basics of the Faith booklet, What Is Faith?.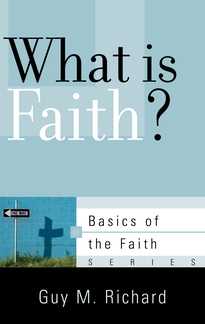 Question #1 – Tell us a little bit about yourself: where you're from, family, job, personal interests, unique hobbies, what do you do in your spare time, etc.
I have spent most of my life in the southeast, living mostly in Louisiana, Mississippi, Alabama, and the Carolinas. I currently serve as Senior Minister of the First Presbyterian Church (PCA) in Gulfport, Mississippi. My wife Jennifer and I have been married for 22 years. We have three children ranging in ages from 18 to 4. I enjoy reading and writing, teaching and preaching, and shepherding my family and God's. Outside of those things, I love to exercise—most especially running, swimming, and cycling—and to watch college football (War Eagle!).
Question #2 – Did you always enjoy writing?
I'm not sure that I "enjoy" writing now! I say that because I think that writing is hard work, at least it is for me. The process of writing is, therefore, oftentimes not "enjoyable." But the end result of the hard work is quite enjoyable. And there is definitely a sense of satisfaction in the process too, knowing that I am using gifts that the Lord has given me to honor and serve Him.
Question #3 – Other than the Bible, do you have a favorite book?
It would probably be J.I. Packer's Knowing God or his A Quest for Godliness or J.C. Ryle's Holiness.
Question #4 – Do you have a favorite movie? What is it and why?
I like older movies like "Mr. Smith Goes to Washington" or "Chariots of Fire," movies that are inspirational and motivational and make me want to work harder and sacrifice more and give more of myself in service of our God.
Question #5 – What advice would you give to aspiring writers?
Keep writing. The more you write, the better your writing will become.
Question #6 – What has been the toughest criticism given to you as an author? What has been the best compliment?
My second supervisor for my PhD, the late Professor David F. Wright, was especially hard on me. I remember getting papers back from him that were so covered in red ink it looked like he had bled all over the pages. He pushed me to think about what I was writing in a way that I hadn't been pushed before. I appreciate his influence today more than ever. I think the best compliment I have ever received about my writing (and preaching and teaching) is that I am easy to understand. People tell me that I have a gift for making difficult things simple. I'd like to think that is actually true!
Question #7 – Favorite sport to watch? Favorite sport's team?
College Football….Auburn University. I love it because my wife and I both went to Auburn, and I think we associate everything we love about Auburn (which is a lot) with the football team.
Question #8 – Lord of the Rings or The Chronicles of Narnia? Why?
Both. But if I had to choose one or the other, I would choose The Chronicles of Narnia, because of their explicitly Christian theme and because of Lewis himself.
Question #9 – If you have a favorite book of the Bible, what is it and why?
Romans or Hebrews. I love the depth and beauty of each.
__________________________________________________________________________
Want to learn more about Guy Richard?
__________________________________________________________________________