This week's author interview is with David F. Wells, author of the Basics of the Faith booklet, What Is the Trinity?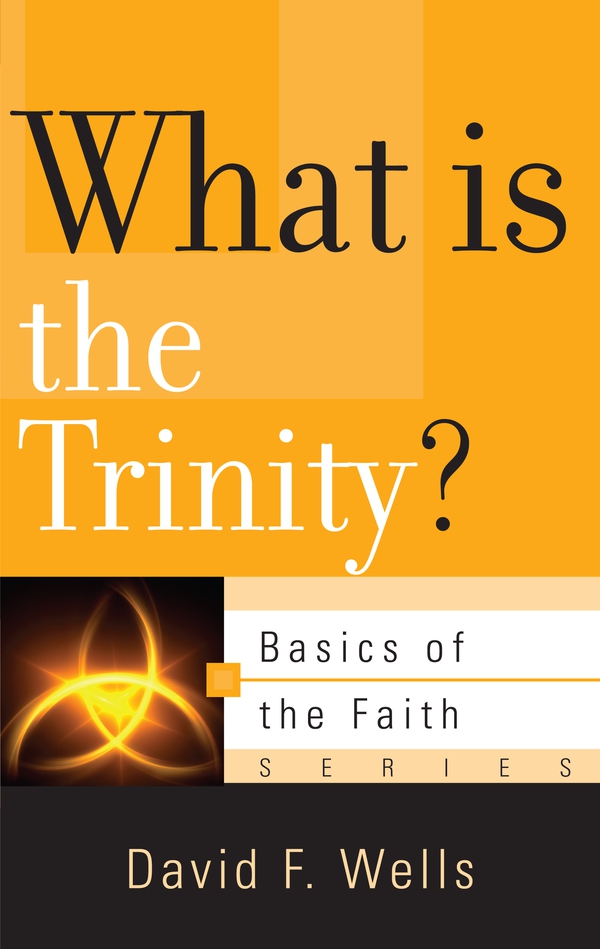 Question #1 – Tell us a little bit about yourself: where you're from, family, job, personal interests, unique hobbies, what do you do in your spare time, etc.
I am an African—now an African-American (!)—since I have become an American citizen.  My home country barely exists anymore. It is Zimbabwe.
Question #2 – When did you first want to write a book?
I am not sure if I ever wanted to write a book and that is a good thing. The best books are those that find their authors and insist upon being written. The most successful books are those that first burn in one's bones before they make their way into the world as printed books.
Question #3 – Which writers inspire you?
Different authors mean different things to you at different stages in your life. I went through a C.S. Lewis stage. It was my introduction to how to think Christianity. Theologically, I was more shaped by J. I. Packer and I also loved the clarity of John Stott. I admired Muggeridge's skill with the English language. At one point, I had read everything Solzenhitsyn had written and was captivated by his acute observations on life.
Question #4 – Did you always enjoy writing?
Writing has always come easily to me.
Question #5 – Do you have a specific spot that you enjoy writing most?
Any spot that is completely quiet.
Question #6 – What book are you reading now?
Andrew Keen's, The Cult of the Amateur and Doris Kearns Goodwin's, The Fitzgeralds and the Kennedys.
Question #7 – Other than the Bible, do you have a favorite book?
Malcolm Muggeridge's, Chronicles of Wasted Time though he could never bring himself to complete the final volume.
Question #8 – Do you have a favorite author? Who is it and why?
No. I have authors to whom I go under particular circumstances. For example, before starting a writing project, I always read what Karl Barth had to say in his Church Dogmatics. There are some magnificent sections in this multi-volume work but Barth is also aberrant in some ways. There is a majesty, and dignity, to his theology that I love.  Traditionally Reformed theology has not produced anything comparable in quality since the Princetonians of more than a century ago—e.g. Charles Hodge and B.B. Warfield. So, where else can you go? When I am working on a sermon on the gospels, I always check out J.C. Ryle's, Expository Thoughts.
Question #9 – What advice would you give to aspiring writers?
I find some aspiring writers want to write. That is putting the cart before the horse. The question is: do you have anything to say? Our schools have given in to our narcissistic culture by focusing only on the mechanical part: what is written. They step back from what is being said on the mistaken assumption that every person has a perfect right to say whatever they want and that what is said is beyond the reach of criticism. This does not help young people to hone their skills thinking clearly and then expressing those thoughts coherently.
Question #10 – Do you have a favorite book that you have written?
The most technically proficient book, I think, was No Place for Truth: Or, Whatever Happened to Evangelical Theology. The book closest to my own heart was God in the Whirlwind: How the Holy-love of God Reorients our World.
Question #11 – At what time of day do you write most?
I discipline myself to write whenever I have the time.
Question #12 – How do you deal with writer's block?
Most people who think they have writer's block have misdiagnosed their condition. What they have is thought block. We can never put into words thoughts that have not formed well in our minds. C. S. Lewis once said that we write most lucidly on those matters on which we have thought best. People who feel they have a cramp in their brains are those who are simply not yet ready to write. They do not know exactly what it is they want to say and not say. What can be frustrating as a writer is that we can control the outward process—what we are reading to gain understanding, maybe with whom we consult, and how much time we have set aside for our writing project. What cannot be controlled is the inward process. It has its own schedule. Understanding does not come on command. It comes when it is ready to emerge on the surface and, as it were, give itself up. There is nothing that a writer can do to speed it up this emancipation of understanding.
Question #13 – What has been the toughest criticism given to you as an author? What has been the best compliment?
Beginning in the early 1990's, I set out to write a series of volumes—it turned out to be six—that were working the lines between Christ and contemporary culture. It was a way of understanding what has happened in our modernized world, how this is affecting us, and how we should think and act in such a world. Since this was, in part, a critique of the evangelical world, I knew that those thus dislodged would not be happy. I anticipated they would react by saying that I was a pessimist, a kind of killjoy. And so it was. Since this was so predictable, I rarely ever pay much heed to it. However, I am always gratified when someone says to me that they knew something was amiss in the Church but they just couldn't put their finger on it. Then they read one of my books and it made sense to them. For me, that is a wonderful experience. That is exactly why I set out to write these volumes.
_________________________________________________________________________________
To learn more about David Wells, visit his faculty page on Gordon-Conwell Theological Seminary's website: http://www.gordonconwell.edu/academics/view-faculty-member.cfm?faculty_id=15912&grp_id=8947
_________________________________________________________________________________